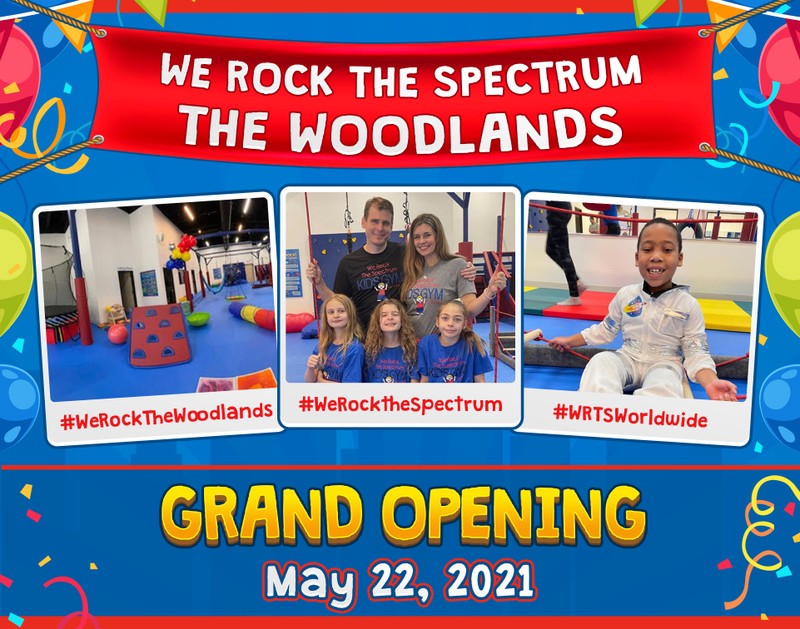 We Rock the Spectrum – The Woodlands Is Now Open for Private Facility Rental, Birthday Parties, and Open Play!
May 27,2021
On May 22nd, We Rock the Spectrum – The Woodlands, opened its doors to The Woodlands community! This special occasion also marks the first Grand Opening of a We Rock the Spectrum franchise following the COVID-19 pandemic. We Rock the Spectrum – The Woodlands is now offering Open Play, private play sessions, and respite, to children of ALL abilities and their families to get the sensory play they need.
Taffta and Dustin Thornburgh are the new owners of We Rock the Spectrum – The Woodlands. They are parents to three awesome daughters. Dustinis a Board Certified Behavior Analyst as well as a Licensed Specialist in School Psychology. Taffta is a pediatric occupational therapist with a background in sensory integration techniques. Both Dustin and Taffta have experience working with children with special needs in the school, home, and community settings. They wanted to turn their shared passion for providing resources and intervention to children and their families into something bigger. They felt that We Rock the Spectrum was the perfect platform for them to serve their community!
We Rock the Spectrum – The Woodlands has seen great success with bookings in just their first week of opening! At the gym's grand opening, children and their families were treated to a variety of food donated by local businesses, sponsored by My Brother Rocks the Spectrum Foundation. Throughout the day, parents and children had the chance to enjoy the new sensory facility and the 12 specially designed pieces of equipment. Fellow franchisee, Taylor Wiesner of We Rock the Spectrum – Dallas, was also in attendance to show her support and witness the big day!
The newly opened gym location offers a wide assortment of sensory-fulfilling activities from uniquely designed sensory play equipment, music, programs, and games. We Rock the Spectrum – The Woodlands offers inclusive Open Play Sessions for their whole community, Private Facility Hire, Respite Services, Group Therapy, Excursions, all in a ROCKIN' sensory-safe play venue. 
The We Rock the Spectrum Kid's Gym franchise is so grateful to The Woodlands community for showing support and being a part of our tremendous growth. We are looking forward to seeing what Taffta and Dustin have in store for the future of We Rock the Spectrum – The Woodlands. Let's ROCK!